Car Wreckers
Now You Can Dispose Your Old Car for Cash in Newcastle Quickly and Easily.
Looking to sell your old car for cash? Then you need to get in touch with Newcastle Top Cash Car Removal services, which offers you with car wrecking and car disposal services in Newcastle. It doesn't really matter what type of car you have or what condition it is in currently. Even if it was damaged in a crash a week ago, we will offer you a good value for your car. We can provide you with a cash estimate over the phone and come collect the car at a time that you decide.
Don't let your car collect dust in your garage. If you have an old car that you want to sell to buy a new one, get in touch with us today!
Our Wrecking Yard Needs More Wrecked Vehicles
Newcastle Top Cash Car Removal has been in business for a long time and provides great car wrecking and disposal services to everyone. We will always ensure that we provide you with the best cash value for your car no matter how damaged it is. Once you give us a call to sell your car, we can give you a quote over the phone.
In rare case we may need to send a review team over to check the car, and determine what parts are functional on the car. After the review has been completed, we will provide you with an estimated value of the car, taking into account all the parts that can be recycled. The review enables us to find hard metals and components that can be recycled easily for other applications.
Get A Fair Price for Your Damaged Car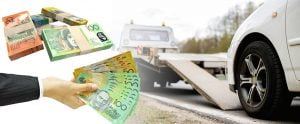 Our car wrecking service provides customers with on-site value for their scrap or damaged cars. The value will be determined by components that can be salvaged, recycled, or sold off. All our clients receive an offer based on the value of the materials of the car. Our fair value guarantee ensures you end up with more in your pocket for your car wreck.
Leave All the Heavy Lifting to Us
Our team at Newcastle Top Cash Car Removal will also tow your car away to our wrecking yard, so you don't have to worry about getting the car to us. The amazing thing about our service is that it is for all types, makes, and models of cars and other vehicles. Including Toyota, Nissan, Holden, Ford, Mitsubishi, Suzuki, Audi, etc.
Basically if you have a vehicle that you don't use, and want to get a fair value from, we are the people you must contact. We deal in all types of cars, whether new, used, or damaged, and we will even buy completely wrecked cars from you as well.
Our car wrecking services here at Newcastle Top Cash Car Removal are designed to help people get a fair price for their car, even if it resembles a piece of junk. We ensure that all cars get a fair deal, and that we provide our customers with the right amount of money based on the value of their vehicle.
Get in touch with Newcastle Top Cash Car Removal today for our car wrecking services.